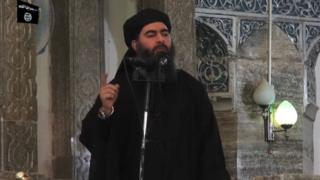 The fugitive leader of the Islamic State (IS) group has been killed in a US military operation in northwest Syria, President Donald Trump has said.
Speaking from the White House, Mr Trump said Abu Bakr al-Baghdadi was killed in a US operation.
Baghdadi came to prominence in 2014, when he announced the creation of a "caliphate" in areas of Iraq and Syria.
IS carried out a number of atrocities that resulted in thousands of deaths.
The jihadist group imposed a brutal rule on almost eight million people in the areas under its control and was behind a number of attacks in cities around the world. The US declared the "caliphate" defeated earlier this year.
Who was Abu Bakr al-Baghdadi?
Baghdadi, whose real name was Ibrahim Awwad Ibrahim al-Badri, had a reputation as a highly organised and ruthless battlefield tactician. He was described as the world's most wanted man.
He was born near Samarra, north of Baghdad, in 1971, and reports suggest he was a cleric in a mosque in the city around the time of the US-led invasion in 2003.
Some believe he was already a jihadist during the rule of former Iraqi leader Saddam Hussein. Others suggest he was radicalised during the time he was held at Camp Bucca, a US facility in southern Iraq where many al-Qaeda commanders were detained.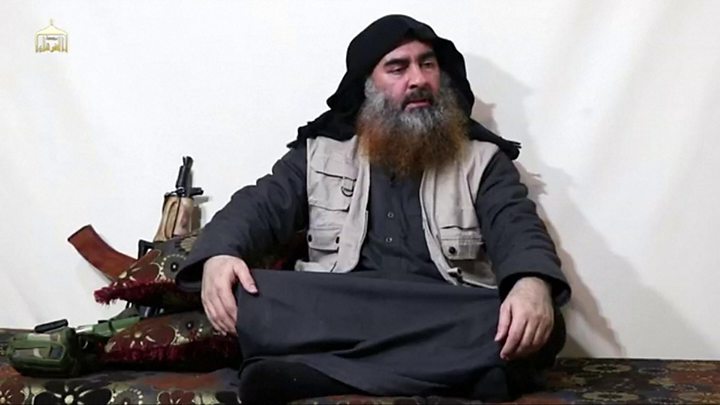 Baghdadi emerged in 2010 as the leader of an umbrella group that included al-Qaeda in Iraq, and rose to prominence when IS militants captured the Iraqi city of Mosul in 2014, when he declared the creation of a "caliphate".
That was the only time Baghdadi was seen in public. He reappeared in a video released by IS earlier this year.
In October 2011, the US officially designated him a "terrorist" and offered a reward of $10m (£5.8m at the time) for information leading to his capture or death. This was increased to $25m in 2017.