Bilionea wa Japan Yusaku Maezawa anamtafuta mwanamke atakayekuwa mpenzi wa maisha yake ili aende naye kutalii mwezini.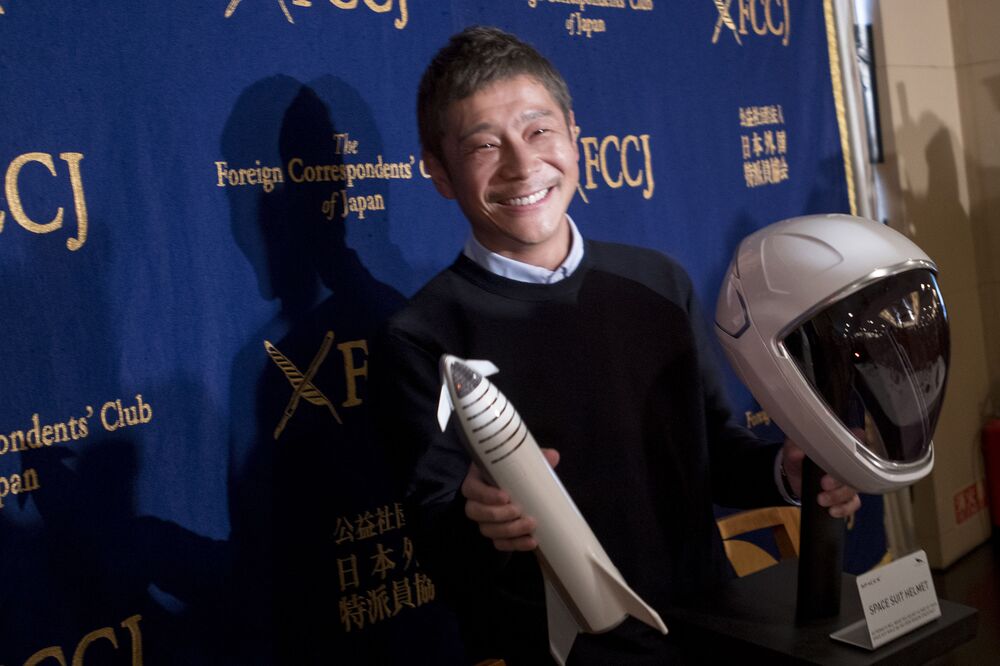 Mfanyibiashara huyo ambaye hivi karibuni aliachana na mpenzi wake muigizaji Ayame Goriki mwenye umri wa miaka 27 amewataka wadada kutuma maombi.
Safari hiyo iliyopangwa kufanyika mwaka 2023, itakuwa ya kwanza kwa binadamu kwenda mwezini tangu mwaka 1972.
Katika ombi la mtandaoni, Bw. Maezawa anasema kuwa anataka kufurahia safari hiyo na mwanamke wa kipekee.
"Japo hisia ya upweke imeanza kunizonga, nafikiria kitu kimoja, kuendelea kumpenda mpenzi wangu," Bwana Maezawa aliandika katika tuvuti yake.
"Nataka kumpata mwanamke wa maisha' nikiwa na mpenzi wangu mtarajiwa wa maisha, nataka kuutangazia ulimwengu penzi letu nikiwa mwezini."Bwana Maezawa.
[WANTED!!!]
Why not be the 'first woman' to travel to the moon?#MZ_looking_for_love https://t.co/R5VEMXwggl pic.twitter.com/mK6fIJDeiv

— Yusaku Maezawa (MZ) 前澤友作 (@yousuck2020) January 12, 2020
Tovuti hiyo imeweka masharti pamoja na maelezo kuhusu jinsi ya kuwasilisha maombi katika mchakato huo utakaochukua miezi mitatu.
Masharti ya kushiriki lazima uwe huna mpenzi, uwe na miaka zaidi ya 20, uwe na mtazamo mzuri wa maisha na ufurahie kuzuru anga za mbali.
Muda wa mwisho wa kuwasilisha maombi ni Januari 17 ambapo uamuzi wa mwisho kuhusu mpenzi wa Bw. Maezawa utatolewa mwisho wa mwezi Machi.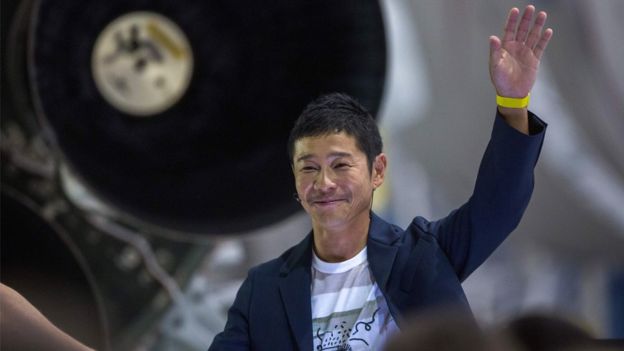 Bwana Maezawa amesema atawashirikisha hadi wasani wanane kujumuika naye katika safari hiyo
Bilionea huyo ambaye amejizolea sifa kwa kuwa mpiga ngoma katika bendi ya punk, anajulikana kwa kujihusisha na visa ambavyo huzua gumzo na kuwaacha watu midomo wazi.
Mapema mwezi huu, Bw. Maezawa aliahidi kutoa dola 925,000 kwa watu 100 watakao share ujumbe wake wa twitter .