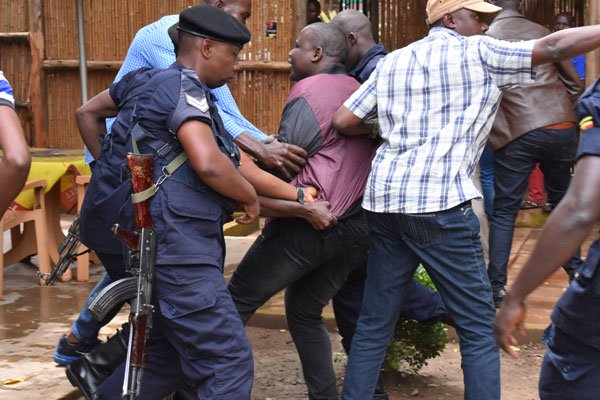 Andrew
Mukasa of Bajjo Events who is also a music promoter of Kyadondo East MP, Robert
Kyagulanyi aka Bobi Wine was dumped at Special Investigations Division (SID), kireka.
Spokesperson
Uganda Police, Fred Enanga has said that the Special Investigation Directorate
under the Criminal Investigations Directorate has taken over inquiries into the
case of incitement to violence through social media by Andrew Mukasa of Bajjo
Events.
Enanga
noted that the case relates to the comments he made in "Luganda" local language
and circulated online.
 He said when translated, Bajjo events warns President
Museveni of their plans to oust him before the year 2021.
He
further added that Bajjo   warns the
military of similar plans to oust the President
He
said Bajjo indicated with confidence how he had people backing him.
"The
suspect consciously ran the risk of being charged for inciting violence,
treason or misprision of treason, since the law protects the honour of the
President as a democratically elected leader."
"The
Security Forces wish to warn all individuals and groups, that posting videos
glorifying violence using undemocratic means is an infringement on the law," he
added.
He
advised the public not to share such videos.
He
noted that Police as a law enforcement agency, shall work constructively with
all stakeholders to understand the dangers of incitement of violence.
"We
are also aware of attempts by those who patronize the suspect to divert the
attention of the public and investigators from the major investigation, by
dragging the person of the Deputy Inspector General of Police (DIGP), into the
arrest of Andrew Mukasa," he noted.
He
added: "We want to put it clear that the private car number plates indeed
belong to our sister agency who logistically supported the police
operation.  Such number plates when the
situation demands, can be used to achieve tactical or operational results"
He
noted that the Deputy Inspector General of Police last used those number plates
in May, 2018, while appearing before the Parliamentary Appointments Committee.
He
said he has since been allocated an official police vehicle and now has no
attachment to that private numbers plate. 
"The
investigations will continue and the suspect will be handled in accordance with
the laws of the country," he said.