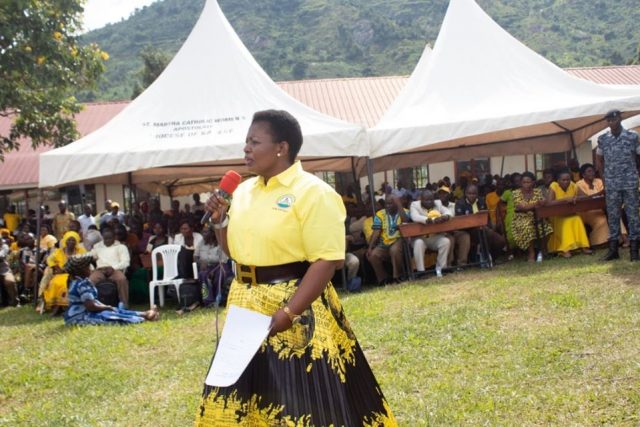 NRM
party Secretary General, Justine Kasule Lumumba has urged the people of Kasese
District not to sign petition forms, aimed at dragging President Museveni to
the International Criminal Court.
Lumumba
made the remarks while meeting NRM leaders in Kasese district.
Lumumba
noted that the move, initiated by opposition members, led by Kampala Lord Mayor
Erias Lukwago, is simply a diversionary tactic, meant to cover up for the
opposition's failure to drum up enough political support ahead of the 2021
polls.
Last
month the petitioners led by Dr. Kizza Besigye and Lord Mayor Elias Lukwago
accused president Museveni of crime against humanity, torture, extrajudicial
killings of Ugandans among others.
She
scoffed at opposition noting that it is only resorting to the petition because it
has failed to gather support from the people ahead of 2021.
She
noted that the ruling party is still enjoying massive support from various
parts of the country including Kasese district.
"That
is idle talk, that is idle work. Let them go and mobilize for 2021and leave
such kind of drama," she said.
She
was quick to point out that government has not laid 2017 unrest in Kasese
district   saying that the investigations
are still ongoing into the matter before a full report is released.
"I
want to thank the people of Kasese, epically NRM fraternity for coming together
to say we were misled by lies flying around but here we have agreed to work
together," she said.
She
said government is looking into proposed split of Kasese into three
administrative Units as proposed by area NRM leaders as a way of reducing on
the cultural and political tension within the area.
"We
don't want anybody to be marginalized, we don't want to undermine anybody, we
don't want government actions to undermined by any team or any individual in
Kasese," she said.
She
further encouraged people also intending to contest on the NRM ticket at all
levels in Kasese district to avoid running as independent event after they lose
party primaries.