Ni wiki tatu sasa zimepita tangu moto uwake kwenye msitu mkubwa zaidi duniani wa Amazon, Ambao unapatikana Amerika ya Kusini katika eneo kubwa la Brazil.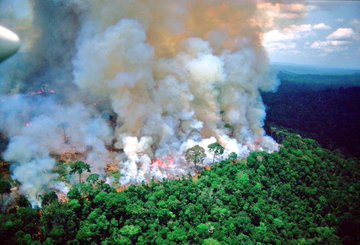 Moto huo ambao chanzo chake imeelezwa kuwa umesababishwa na shughuli za kibinaadamu, Umeshatapakaa karibia robo ya msitu wote wenye ukubwa wa eneo la Kilometa za mraba milioni 5.5 .
Akizungumzia moto huo, Rais wa Brazil, Jair Bolsonaro amepingana na ushauri unaotolewa na mataifa mbalimbali kufuatia hofu ya msururu wa matukio ya moto kwenye msitu huo.
Bolsonaro amesema kuwa mataifa ya kigeni na wanaharakati wanahoji zaidi chanzo cha moto kuliko msaada wa kuuzima moto huo.
Kiongozi huyo amesema, Wanaharakati na mataifa ya kigeni yanatumia janga la moto kumnyong'onyesha kisiasa.
Rais Bolsonaro ametuhumiwa na wanaharakati kuwa hakuchukua hatua za awali tangu moto huo ulipoanza kuwaka kwenye misitu hiyo wiki tatu zilizopita.
Naye, Rais wa ufaransa Emmanuel Macron ameuita moto huo "Janga la Kimataifa", huku akitoa mwito kwa wakuu wa mataifa yaliyoinukia kiviwanda duniani, G-7 kufanya kikao cha dharura kujadili janga hilo katika mkutano wao wa kilele unaofanyika Ufaransa.".
Kupitia ukurasa wake wa Twitter Macron ameandika, "Nyumba yetu inaungua. Kwa kweli, msitu wa Amazon, mapafu yanayozalisha asilimia 20 ya hewa ya Oksijen unateketea.".
Rais Bolsonaro alimjibu kwa kuandika, "Ninajuta kwamba Macron anataka kujiimarisha kisiasa kwa kutumia suala hili la Brazil na mataifa mengine ya Amazonia. Mawazo yake ni ya kikoloni kwa kuyataka mataifa ya G-7 kujadili suala hilo bila ya kushirikisha mataifa mengine ya ukanda huo".
Imeelezwa kuwa serikali ya Brazil imekuwa ikishindwa kudhibiti matukio ya madogo madogo ya moto kwenye msitu huo, Jambo ambalo linafanya Rais wa Brazil kutumiwa lawama.
Takwimu rasmi zinaonyesha kumekuwepo na visa 73,000 vya moto nchini Brazil katika kipindi cha miezi minane, ikiwa ni idadi ya juu kabisa tangu mwaka 2013.
Nchi jirani, Peru ambayo pia ina eneo kubwa la Amazon imetangaza kujiandaa kupambana na moto huo unaosambaa kwa kasi kutokea Brazil na Bolivia. Paraguay na Bolivia wanapambana kuutenganisha moto huo ambao umeteketeza eneo kubwa la msitu huo ambao ni chanzo cha mvua.
Wananchi nchini Brazil nao pia wameilalamikia serikali yao na mataifa mengine kuwa wamesusiwa janga hilo, Kwani hakuna hatua zilizochukuliwa na badala yake wameanzisha mizozo.
Msitu wa Amazon unatajwa kama 'Mapafu ya Dunia' ambapo unazalisha hewa ya Oxygen kwa asilimia 20 duniani kote, Huku ukikadiriwa kuwa na miti mikubwa takribani bilioni 390 na ndio msitu muhimu zaidi duniani.
Msitu huu unafahamika zaidi kuwa na viumbe wa ajabu na wakubwa ikiwemo aina ya nyoka wakubwa wanaofahamika zaidi kwa jina la Anaconda, Wanyama kama Jaguar na wengineo.
Kama msitu huu utaungua kwa kiasi kikubwa basi Dunia nzima tutakuwa hatarini kimaisha na kwenye nyanja tofauti tofauti ikiwemo ongezeko la joto.
Mamlaka mbalimbali na vitengo maalumu vinavyohusika na masuala yote ya kijografia duniani, zinalitizima jambo hili kwa ukaribu huku taratibu za kuuzima moto zikiendelea japo umeshika eneo kubwa sana.
Kwa upande mwingine, Mastaa na watu maarufu duniani, Nao wamepaza sauti zao kuafuatia moto huo.
Mshambuliaji wa klabu ya Juventus, Cristiano Ronaldo kupitia ukurasa wake wa Twitter ameandika, "The Amazon Rainforest produces more than 20% of the world's oxygen and its been burning for the past 3 weeks. It's our responsibility to help to save our planet.".
Msanii wa muziki kutoka Canada, Justin Bieber naye ameguswa na janga hilo la moto kwa kuweka posti hii kwenye ukurasa wake wa Instagram.