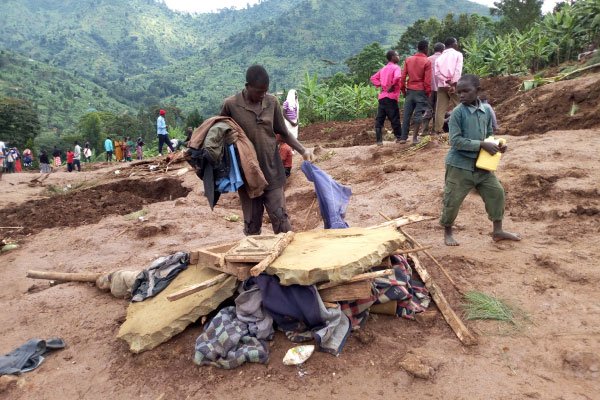 At least 12 People have been  confirmed  dead with thousands displaced following Landslides that took place in Bundibugyo District. 
The Office of The Prime Minister has revealed that they have now dispatched teams to investigate the extent of the death and destruction before as they come up with a relief and mitigation strategy.
According to the state minister for  disaster and preparedness Musa Echweru, government is  working  tirelessly to recover bodies who have been buried by landslide in the hilly district.
"I have confirmed as I talk to you know, 12 bodies that is 11 adults and 1 child have been retrieved by team of leaders, police and the red cross, we think there might be more bodies," said Echweru.
He revealed that the government has already dispatch a team, to go and monitor the situation.
"I have dispatch immediately some relief assistance and I directed them to see that the survivors are quickly located to the nearest schools, churches as I dispatch food and  nonfood items to make sure that we take care of the survivors as we monitor the situation," he said. 
The LC5 Bundibugyo Ronald Mutegeke  said they have lost so far 14 people and mostly coming  from mountaineous  areas where  some parts of the roads were cut off.
He revealed that the district is working  round the clock to relocate thousands of people who have been displaced. 
"There are beyond 4000 households because the damage has hit different parts of the district  and we call upon the government to set up the team to come in ground and they assess the level of damage," he said. 
He called  for  the help from government and other humanitarian agencies. There has been a number of floods and landslides in Bundibugyo since the current heavy rain but this is the first time death has been reported.