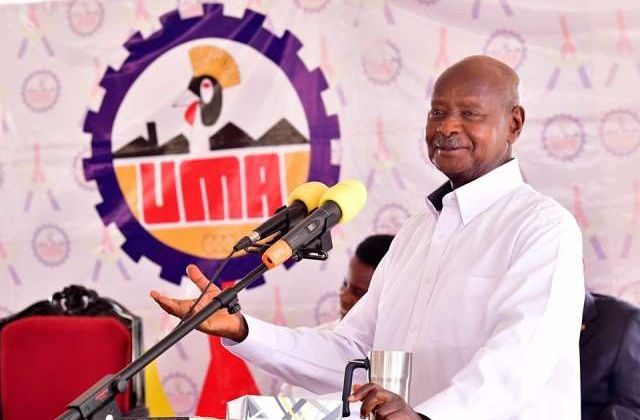 President Museveni has praised the business community on their positive role in the Uganda social economic transformation, that is seeing the country developing steadily. Museveni also promised to address the issues that affect the cost of doing business, high interest rates on loans, and exorbitant power tariffs. 
The president Museveni made the remarks while opening the 27th Uganda Manufacturers' Trade Exhibition in Kampala yesterday which is running on the theme "promoting job creation through industrialization." 
According to the president, government appears to have shifted its attention on making use of Lake Victoria in the interim as negations for funds for the standard gauge railway are ongoing.
"Until recently even now we have not solved the cost of transport, the cost of electricity and the cost of money we have not yet solved them but still the economy was growing quit well, why because of mainly peace," he said.
"We are working on the lake we shall use water transport to move cargo from Kisuma to here Uganda, port bell, Jinja even up to Rwanda through the Kagera," he added.
Museveni noted that Uganda is going to  start building the railway inside Uganda which will run from Tororo to Kampala.
"Even before we have started building the railway inside Uganda because we are going to start building the railway from Tororo to here and from here to Congo boarder and from Tororo to the boarder of South Sudan so therefore  the problem of transport is going to be very much addressed," he said. 
The minister of trade, Amelia Kyambadde highlighted the importance of Manufacturing in Uganda through the industralization agenda.
She said last financial year 2018/19 the industrial sector contributed 19.6% to the GDP while at the growth rate of 2.8% compared to 1.7% in the finial year 2017.