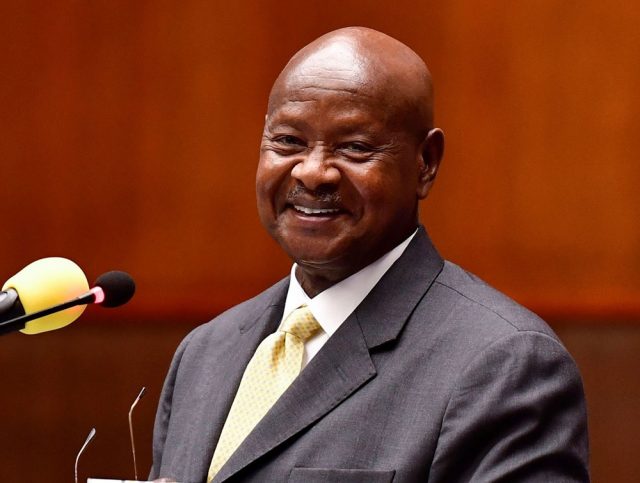 President Museveni has urged musicians and performing artists to compose songs that transform and portray Godly values rather than just adopting western music styles.
He  also urged them to sing with a motive  to  communicate in an informative  and commendable manners instead of singing for purpose of sound and rhythm.
The remarks were contained in a speech read for him by the vice president Edward Kiwanuka Ssekandi during the 6th edition of the annual Christmas carols festive of choristers association of Uganda that took place  at the Kampala Sheraton Hotel.
Museveni said that the Christmas season and the end of year festival should remind Ugandans about the resolution to work hard for the nation and for individual households in a bid to banish poverty and further efforts to create wealth for prosperity. 
The choristers Association of Uganda is a faith based association that bring together all catholic choirs in the country to showcase new gospel music that accompany worship and praise in the churches.
This year 13 choirs from the catholic faith and two chiors from Anglican church have participated in the event that has been running under the theme "Rejoice mighty daughter of  Zion ,for the mighty has done great works, Holy is his name".
Museveni said  music has enormous benefits  to mankind and has existed since the beginning of human civilization.
He noted music  has power to affect moods ,stimulate brain cells and it's  powerful enough to be therapeutic ,bring all people together and is  a powerful educative and informative tool whose purpose should be to build  the community and not break it.
He commended such spiritual musical events and guided that they become organized with increased participation of the youth in order to preserve our values and heritage.
"If you compose songs of hatred, you are likely to reap a bitter society, the president said.
Museveni further  said there is need to appreciate that the music industry in an institution that puts into play aspects of humanity that are inherent  in all of us and portrays the lives that we lead regardless of our culture.
Museveni donated 10 million shillings to the association to enable them start a washing bay to improve and boost their financial self-empowerment.
The vice president also donated 3 million shillings to the association.
The chairperson of Chorister Association of Uganda, Justine Nabbale said that event is  used as a platform to bring together various people.