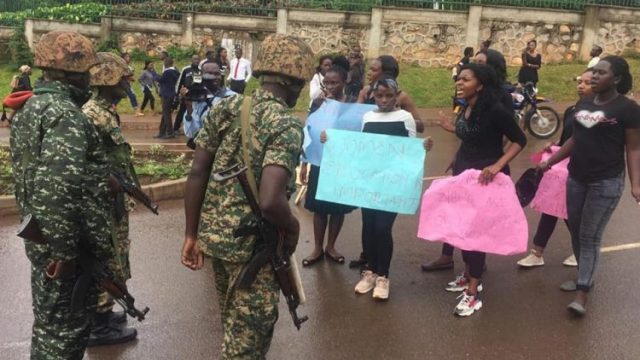 The Makerere University student leaders have rejected a call by the university management over the ongoing impasse at the oldest university in the country. The student, in a dramatic twist have made demands that they ask to be fulfilled before the meeting can happen.
In a letter written by the Guild President Kateregga Julius, the student leaders have maintained that the strike will continue unless those demands are fulfilled and there will be no halt. This is just hours after the Acting Vice Chancellor, Prof Umar Kakumba wrote a letter to them asking for a truce.
The students demand that among others, the suspension of all students that were "unfairly" suspended over their peaceful demonstration be revoked, that their colleagues who received warning letters over the peaceful demonstrations be cleared also, that the meeting constitute a one Gordon Murangira (Personal Assistant to the vice chancellor) and Prof Hisali (the Principal of the College of Business) whom they accuse of reigning terror on them in the past week and lastly, that a section of members of the university council confirm attendance of the meeting since they hold the outright power to grant them what they want.
The students have declared that the demonstrations will continue if their demands are not met and that they will not draw back even if the military starts shooting them. The students claim Prof Hisali masterminded the military attack on Lumumba Hall last week where university and personal property was destroyed and tens of students clobbered to pulp.