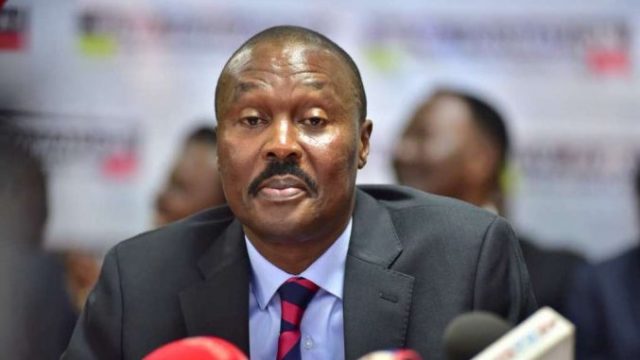 The
National Coordinator of the Alliance for National Transformation (ANT), Maj.
Gen. Mugisha Muntu, has revealed the reason why he decided to leave Forum for
Democratic Change (FDC).
Muntu
noted that the reason why he left FDC was for the sake of promoting peace,
Tranquillity and avoid friction between him and some members of the FDC who did
not like him.
He
noted that he has never regretted the decision he made because it has brought
peace and harmony between the two entities.
"We're
now at peace. I know for sure that if we had stayed in FDC we would still be
fighting and there would be paralysis. I have a sense that some leaders in FDC
don't trust us but we shall give them time," he said.
During
a television show, Muntu said ANT don't have any problem with anybody in the
country and it's ready to join forces with any opposition political
organisation with a common goal of causing change in this country.
He
added that the party is not in rush to take the mantle from president Museveni
because taking power is a process.
"
We don't panic, we're not emotional, and we are consistent and persistent. We
are not bent on redirecting the path of this country politically," he said.
Gen
Muntu said the good relationship between the two political organizations gives
the reason for the support given to the FDC candidate in the recently concluded
Hoima District Woman MP by-election.
"Supporting
the FDC candidate in the Hoima election, Alliance for National Transformation
was looking at the larger picture. For every seat the opposition takes, we
strengthen the population for all those who want change," he said.
He
noted that ANT is a value base political party which appreciates efforts to
bring change in Uganda.
He
said if the party wins more seats in different parts of the country, this will provide
an opportunity for the party to build confidence in people.
He
urged Ugandans to keep on struggling and should never think of giving up
because taking power is a process.
Muntu
said there is frustration among people in Uganda but there is willingness to
change the regime though most of them do not want to participate in causing the
change.
"Politicians
have been saying nice things but nothing physical to show for it. People want
change but don't know-how to achieve it. Some are fearful of the uncertainty
that comes with the change," he said.
He
said some people are working overnight to make sure change is delivered.