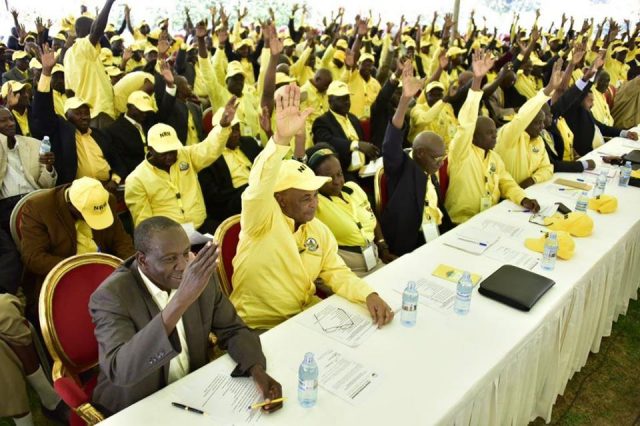 The
differences among NRM leaders in Kampala had started to escalate following the
appointment of Presidential advisers for Kampala Affairs and the Ghetto.
This
forced, the NRM leaders in Kampala to agree to work together to strengthen the
party a head of the 2021 general election.
In
the meeting that was held at Nakivubo Blue Primary school Playground in Kampala
over the weekend, NRM leaders resolved to always work together for a common
goal.
They
also resolved to stop divisions and differences among themselves and concentrate
on mobilising for the party ahead of 2021 elections.
Rogers
Mulindwa, the NRM secretariat spokesperson said enemies that are disorganising
the party are within NRM.
"Our
biggest enemies of NRM are within NRM, once we sort out ourselves and we get to
know the enemies within ourselves and the enemy is not a human being, our
enemies are those indifferences we have," he said.
Salim
Uhuru, the NRM chairperson, Kampala central who called the meeting said having
this kind of meetings was the only way of moving NRM forward so that they can
win Kampala convincingly in the 2021 election.
"The
issue is strictly about unity, reconciliation and mobilisation. We are now one
as Kampala, there are no more internal fights," he said.
The
meeting was also attended by the deputy government spokesperson Shaban
Bantariza who preached unity among the NRM leaders not only in Kampala but
across the country.
"Comrade
Uhuru and his other leaders have decided that they should reconcile, reorganise
their teams and be one so that they have got unity of purpose," he said.
He
urged all NRM leaders to always settle their disagreements behind the scenes
not in public.