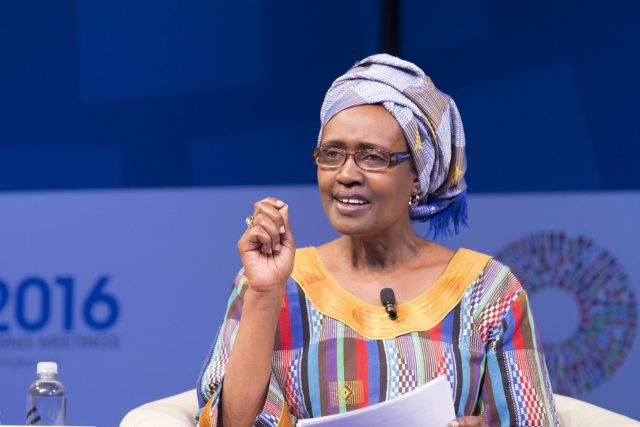 Ugandan diplomat Winnie Byanyima has been sworn in as the new Executive Director (ED) of the Joint United Nations Programme on HIV and AIDS (UNAIDS).
This follows her appointment in August this year as the new ED of the Joint United Nations Programme on HIV and AIDS (UNAIDS).
The Joint United Nations Programme on HIV/ AIDS (UNAIDS) leads and inspires the world to achieve its shared vision of zero new HIV Infections.
The agency has "warmly" congratulated her as she takes up her new role officially.
Byanyima joins a select cast of individuals that have previously taken the position, including Belgian Peter Piot and Malian Michel Sidibé. Gunilla Carlsson from Sweden has been serving as executive director in the interim following Sidibé's departure this year.
In her new role, Byanyima is expected to lead a large team in an expanded response to the HIV and AIDS pandemic around the world.
Byanyima is an aeronautical engineer, politician and diplomat. She served as the executive director of Oxfam International, also as the director of the Gender Team in the Bureau for Development Policy at the United Nations Development Programme (UNDP) from 2006.
Byanyima, the wife of Ugandan Opposition politician Dr. Kizza Besigye, will flip over to the next chapter of her illustrious career from her current position as executive director of Oxfam International, having taken its leadership in 2013.
Byanyima said :"Statement of commitment to step up action towards ending AIDS, eliminate social injustice and reach the women and girls being left behind."
"The end of AIDS as a public health threat by 2030 is a goal that is within the world's reach, but I do not underestimate the scale of the challenge ahead," she noted.
"Working with all its partners, UNAIDS must continue to speak up for the people left behind and champion human rights as the only way to end the epidemic."
Statistically, 37.9 million people were living with HIV and AIDS worldwide in 2018, according to the World Health Organisation (WHO).